The landscape of money as a medium of exchange has undergone a massive paradigm shift. From using barter systems in 6000 BC to making digital payments 80 centuries later, the odyssey of payment systems has revolutionised to a great extent. Mankind's search for simpler ways of exchanging money has resulted in countless innovations to make payments easier. 
If we zoom in on the timeline of demonetisation in India, the digital payments system witnessed a springboard effect. In 2016, the government banned all high-value currency notes to stop 86% of the circulating currency to curb black money and terror financing. Hence, demonetisation became a pivotal moment for the citizens to change how they made transactions. 
It was then that Paytm seized the opportunity and brought a digital revolution to the payments industry of India. The app's ease of use and seamlessness led to its quick adaptation amongst Indians. Paytm managed to simplify the transaction processes like bill payments, fund transfers, and travel booking under its operations. This marked the beginning of massive UPI adoption that exponentially kept on increasing. This is how Paytm pioneered the QR code revolution and we could now spot QR codes everywhere, from the counters of large stores to the pushcarts of hawkers. 
Over the years, digitisation has triumphed and is one step closer to being a cashless economy. People have become more comfortable with scanning QR codes than paying through cash. The impeccable user interface of modern UPI apps makes it difficult for consumers to go back to conventional methods of storing physical currency. One would rather pay Rs 196 digitally than give out a 100 rupee note and exchange it for unmanageable coins. 
The volume of digital payments took up a never-seen-before pace, and the number of transactions nearly doubled on a YoY(Year on Year) basis.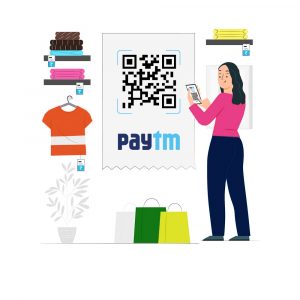 Here are some statistics that exhibit the onset of digital payments in India: 
In 2017, the volume of digital transactions surged by 56% compared to the previous year.

Paytm's transaction volume recorded 1.3 crore transactions in January 2020, which increased to 1 lakh crore in April 2022. 

There was a 50% rise in UPI transactions amongst the blue-collared workforce post-Covid.
Fast forward to today, digital payments in India are worth $3 trillion. The BCG report projected the digital payments industry in India to reach $10 trillion by 2026, almost threefold the status quo.